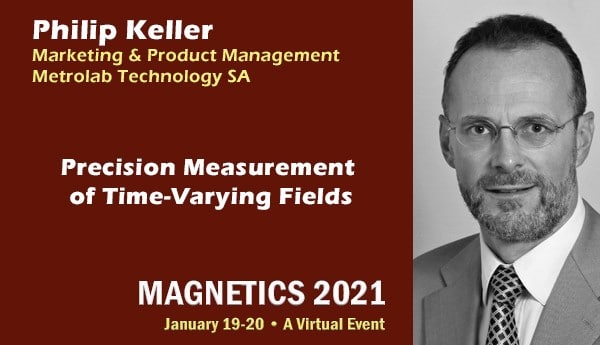 MAGNETICS 2021, January 19-20, is a leading global event focused on the latest economic developments and technical advancements in magnetics markets and technologies, bringing together worldwide magnetics experts. In 2021, this yearly meeting will be a virtual conference, including live-streamed video presentations and live Q&A sessions.
​Philip Keller will be discussing: PrecisionPrecision is how closely multiple measurements will be clustered. Also called reproducibility or repeatability. In everyday speech, often confused with... Measurement of Time-Varying Fields:
Commercial magnetometers are generally designed to measure stable magnetic fields. The measurement and analysis of time-varying fields have been an afterthought, even though they are central in many commercial applications, such as electric machines and environmental measurements. This session will review recent progress in this area, mostly in the analysis software realm, and some of the challenges that remain.
Conference website: https://www.magneticsconference.com/